FROM THE CHAIRMAN
(Albert P.W. Lam, MBE)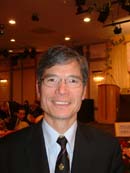 CHAIRMAN'S NOTE
The Hong Kong Ex-Servicemen's Association (HKESA) was formed in March 1997, 3 months before Hong Kong returned to her motherland. Over the years, members rendered tremendous support to the Association, making us a well known organisation in Hong Kong.
I am honoured to be elected as the chairman since 2005. My job is to uphold the well being of the Association, maintain the comradeship of all members, look after members' interests and continue to maintain the good relationship with other veterans associations, local and overseas.
To achieve all these, I need your continuous support. Please talk to us if you have any suggestions, speak to those colleagues who are yet to join the Association and encourage them to join.
The LEP clubhouse, managed by the Association, is the home for all ex-LEPs and you are most welcome to its facilities. The Association is here to serve you and I look forward to meeting you in the Association's functions and activities.